[AdSense-A]
Bunkulung is just 48 km from Siliguri of North Bengal and approx. 55 kms. from the nearest Bagdogra Airport. This is an ideal Himalayan village surrounded by hills and rivers. Nature has whole heartedly bestowed this place with flawless beauty. Bunkulung perches on the lap of nature. The slopes of the mountain are covered with green millet and paddy fields. The Murmah Khola and Balasun River crisscrosses the village. This place is absolutely perfect for the relaxation of the tired soul. You can take long walks in the nearby tea gardens, enjoy a dip in the rivers and sit and watch the clouds and sun playing hide and seek over the lush green mountains all around. Bunkulung is one of the best examples of ecotourism in North Bengal. The local farming  produces varieties of fruits and vegetables that is of very high quality. The 19 ponds of sericulture project, maintained by the Government of West Bengal, enhance the beauty of the location. Moreover, use of any chemical fertilizers or toxic materials is restricted in the region. The village is dominantly populated by the Limbus of the Gorkha community. This beautiful name, Bunkulung is a combination of Lepcha and Limbu language.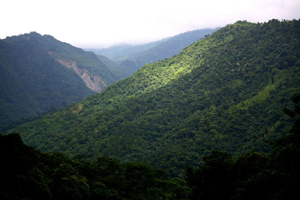 Places to see at Bungkulung: Bungkulung is a heaven for the nature lover's. The whole village is engaged in agriculture – you would find unending miles of paddy and millet fields and 19 big ponds for pisiculture. Bunkulung has been declared as a model village by the DGHC fisheries department in 2001. The climate is extremely pleasant huge tracts of barren land and easy accessibility of water from close by streams and rivers. This helps in promoting pisiculture in the region. Floriculture is also practiced in Bunkulung. You can also visit the nearby Balason River and Murmah River.
Nearby attractions of Bunkulung: There is a nearby tea factory in Murmah and tea gardens in Gayabari. You can also visit the town of Mirik which is just 15 kms away and enjoy a boat ride in the famous Mirik Lake. The Bokar Monastery in Mirik and the orange orchards of Rangbang can all be covered in day trips.
Things to do at Bunkulung: You will never feel bore in this place. If you are adventurous then enjoy camping and picnics on the banks of River Balasun or take a dip in the chilly waters of this river. You can also enjoy angling in the nearby rivers or indulge in horse riding through the paddy fields, mountains and tea gardens. Take a stroll along the picturesque landscape of Bunkulung. Enthusiast tourists can enquire for the local cultural program, organized in open air with barbeque and campfire. You can also enjoy village treks to various nearby villages around Bungkulung.
Best time to visit Bunkulung: You can visit Bunkulung any time of the year. In the rainy season, the whole of Bunkulung is shrouded in green and in the winters when the millet and paddy ripe, the endless stretches of golden brown covers the mountain slopes of Bunkulung.
How to go ?
Bunkulung is 48 km from Siliguri, in the Siliguri-Mirik highway of North Benlgal. Tourists can hire a vehicle from New Jalpaiguri (NJP) Railway station to reach Bungkulung. It takes around 1.5 hours to reach Bunkulung from Siliguri via Siliguri-Mirik road. Travelers can reach also Bungkulung from Bagdogra airport (  55 km) by car.
[AdSense-B]
Where to stay ?
There are not many hotels in Bunkulung. Khim Khesang Homestay is an option. For booking details you may contact +91 9932224074.
In Mirik (15km) there are some home-stays and hotels. Some options are;
Hotel Jagjeet : +91-354-2243231 / 769 / 205 97758-01621
Bomzon Salamander Homestay : 9932224074
Thapa Thali Salamander Homestay : 919932224074
Kancha Gurung's Guest House : +919932224074
Note : Phone numbers given above are according to the information available to us. If you find any contact number given is / are incorrect or not in use, please let us know.
[AdSense-C]
http://tripsaround.in/wp-content/uploads/2014/03/Bunkulung.jpg
467
700
TripsAround .in
http://tripsaround.in/wp-content/uploads/2013/04/logo.gif
TripsAround .in
2014-03-16 14:57:28
2014-05-15 14:43:20
Bunkulung, North Bengal - An ideal Himalayan village surrounded by hills and rivers