[AdSense-A]
Biharinath is the highest hill in the Bankura District located near the famous Joychandi Hills. It is covered by Purulia on the one side and River Damodar on the other side. The hill is of 451 meters altitude. It is recognized as a popular tourist destination in the recent years. The place is shrouded in thick forests, and is rioted with colours with the blooming of Kash Phool, Shimul and Palash during the seasons. The villagers decorate their mud homes with Alpona here. It is not quite difficult to catch the glimpse of the wild boar, hare, fox and some unknown colourful birds when they cross your path. It is quite surprising that Biharinath Hill is the highest hill in the sub-Himalayan terrain in West Bengal (1480 feet).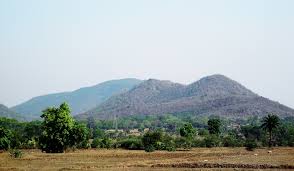 Places to see at Biharinath: The primary attraction of Biharinath is the lush nature all around and Biharinath Hill. The unforgettable experience of watching the rising and setting sun over Ledhi and Sharpahari Hills and the winding village paths would compel you to extend your stay. Another popular attraction here is temple dedicated to Shiva, popularly known as the Biharinath dham and a small tank located at the foothill.
Nearby attractions at Biharinath: Visit the Ureshwari Temple, which is just a walk away and located to the West of the Biharinath Hill. The Binodpur Dam and Joychandi Hill (where Satyajit Ray's Hirak Rajar Deshey was shot) is also nearby.  Boranti Lake is located just 15 kms from Biharinath. Other attractions that can be covered within a couple of hour's journey are Maithon, Panchet, Shaltora and Sushunia.  Biharinath is just 66 kms from Durgapur.  Boranti is also nearby, just 15 kms.
Things to do at Biharinath: The adventure lovers will have a great time in Biharinath. Biharinath hill is ideal for trekking and you can scale the hilltop in just one and half to two hours. You can also explore the region, which boasts of an exotic range of flora and fauna. You can also enjoy boating at the lake located nearby the Biharinath temple. Enjoy a nature walk along the scenic natural landscape of Biharinath. Biharinath also hosts a whole range of religious fairs and festivals throughout the year. Huge fairs are organized during Shivrati and Saraswati Puja.
Best time to visit Biharinath: The place attracts tourists throughout the year. However, if you are looking for a peaceful weekend gate away then try to avoid the seasons when fairs and festivals (especially Shivratri) are held. If you love palash flower then February/March should be the ideal season.
How to go ?
There are a number of options to reach Biharinath. You can drive along the Durgapur Expressway, bypassing Panagarh, Durgapur and Ranigang. After crossing the Damodar River Bridge, drive straight towards Madhukunda. After bypassing the Madhukunda railway crossing, go straight to Biharinath (16 kms). You can also avail trains running to Asansol. Biharinath is located at a distance of 46 km from Asansol, which you can commute by hiring a cab from the Asansol Railway Station. However, the best way to reach Biharinath is by train to Raniganj and then to Biharinath by hired car (22 kms).
[AdSense-B]
Where to stay ?
There is not much accommodation facilities in Biharinath. Biharinath Tourist Point is an option.
Ph No : +91-(033) 6954 7111, 8017202499, 9732861020
Note : Phone numbers given above are according to the information available with us. If you find any contact number/s given above is/are incorrect or not in use, please let us know.
.
[AdSense-C]
http://tripsaround.in/wp-content/uploads/2014/05/Biharinath-1.jpg
458
700
TripsAround .in
http://tripsaround.in/wp-content/uploads/2013/04/logo.gif
TripsAround .in
2014-06-18 08:53:16
2014-06-18 08:54:03
Biharinath, South Bengal - The highest hill in the Bankura District