[AdSense-A]
If you have been impressed by the Sunderbans and its snaking rivers, meandering creeks, dark mangrove forests, brooding silence and Dakshin Roy (the tiger god), Bhitarkanika in Orissa will attract you too. Known as the second Sunderbans, Bhitarkanika has exotic birds, thousands of giant turtles, crocodiles, pristine beaches, narrow creeks that flow past deltaic islands. There is hardly a soul around.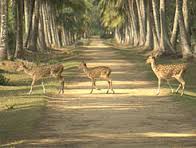 Located 130km from Bhubaneswar, Bhitarkanika was declared a sanctuary in 1975. Its core area was designated a national park in 1998, spread over 650sq km. The place is surrounded by the Brahmani, Baitarni and the Dhamra rivers and criss-crossed by several creeks. It has a forest cover of 380sq km, including a mangrove forest of 115sq km.
Bhitarkanika is one of the few swamps with a compact mangrove eco-system in India, next only to the Sunderbans in West Bengal. Bhitarkanika has some of the biggest tracts of estuarine forests in the country, with more than 60 varieties of mangroves. Tidal circulation of nutrients and salinity takes place in these tracts. The endemic flora and fauna need to make complex yet essential physiological adjustments to adapt to the constantly changing salinity of the water. The deltaic region comprises a couple of tiny islands formed by creeks, with Dangamala island in the middle.
A large number of reptiles, including crocodiles, king cobras, lizards and pythons are found here. Animals like wild pigs, rhesus monkeys, sambars and spotted deer are also found. Bagagahana and Saribana can be called an ornithologist's paradise. Over 170 species of residential and migratory birds, including kingfishers, open-billed storks, sea eagles, kites, sand pipers, darters, seagulls and whistling teals are found.
Watching wild animals in their natural habitat and listening to the sounds of birds while cruising through the creeks can be a thrilling experience here.
Gahiramatha beach at Bhitarkanika, located 3.3km from Dangamala island, has the largest nest of Olive Ridley turtles in the world. A boat ride on the river with the mangroves on either side is thrilling. One might come across a crocodile basking in the sun on one of the banks. These mighty creatures are best admired from a distance.
How to go ?
Take any south-bound train from Howrah and get off at Bhadrak and head for Chandbali, 50 km away. Bhitarkanika is a few kilometres from Chandbali. One can reach Chandbali from Balasore too.
[AdSense-B]
Where to stay ?
Aranyanivas at Chandbali is a good option.
For reservation contact: (06786) 220397
Or, Visit: http://visitorissa.org/portal/page/portal/OrissaTourism/bhitarkanika
[AdSense-C]
http://tripsaround.in/wp-content/uploads/2014/03/Bhitarkanika.jpg
407
700
TripsAround .in
http://tripsaround.in/wp-content/uploads/2013/04/logo.gif
TripsAround .in
2014-03-10 21:17:06
2014-05-16 10:16:00
Bhitarkanika, in Odisha, 130km from Bhubaneswar