[AdSense-A]
Lying by the side of River Narmada Bhedaghat is situated at the Jabalpur district of Madhya Pradesh. The Marble Rocks at Bhedaghat are a dazzling magnificence. It rises to a height of hundred feet on either side of the Narmada. The placidity and the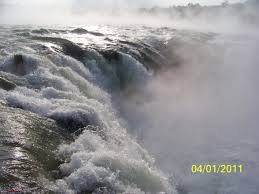 loveliness of the site will steal your heart. The sunlight sparkling on the marble-white pinnacles and casting dappled shadows on the pellucid waters. These white rocks with views of black and dark green volcanic seams are truly majestic, and produce a magical effect on moonlit nights. The holy river flows by tranquilly flanked by the towering cliffs which reflect in it like a mirror the changing moods of nature. A little distance away, it becomes turbulent as it plunges in a mighty water fall known as Dhuandhar.
Places to see at Bhedaghat: At Bhedaghat the marble rocks are really a visual delight and are a must watch. You can avail the boating facilities here. Boating in a moonlit night is a thrilling experience.
The Chousat Yogini Temple is located near the marble rocks is also an important tourist spot which you must visit. It is believed that the temple has a Secret Underground Passage Leading to Palace of Gond Queen Durgavati.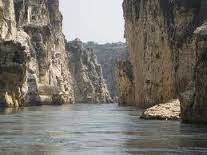 The Dhuandhar falls is another place worth seeing. The Narmada Falls makes its way through the marble rocks and then plunges into the Dhuandhar falls or Smoke Cascade.
The soap stones artifact are a unique architecture of the place. These soap stones are uncovered by the NarmadaRiver. It provides occupation to the families of carvers of gods and goddesses, lingas, crosses, madonnas, ashtrays and trinket boxes.
Nearby attractions at Bhedaghat: From Bhedaghat make a trip to the Bargi Dam which is 50 km from Bhedaghat and the beautiful city of Jabalpur which is just 25 km away.
Things to do at Bhedaghat: You will never have a single dull moment, during your stay at this exquisite location. The adventures of boating on the heart of Narmada, the marvellous Dhuadhar falls will make your itinerary fun filled. Don't forget to carry an item of soapstone artifact. These soap stones are revealed by the river Narmada. It is then carved to make different beautiful things.
Best to time to visit Bhedaghat: The best time to visit Bhedaghat is from November to May.
How to go ?
By rail: Jabalpur, on the Mumbai-Howrah (via Allahabad) main line, is the main railhead. All mail, express and passenger trains halt here.
By road: Jabalpur, on the Mumbai-Howrah (via Allahabad) main line, is the main railhead. All mail, express and passenger trains halt here.
 By air: Jabalpur (23 km) is the nearest airport connected to Bhopal & Delhi with regular flights.
 [AdSense-B]
Where to stay ?
There are no such accommodation facilities at Bhedaghat. The tourist can stay at Jabalpur which is only few kilometers from Bhedaghat. Some options are:
Hotel Rishi Regency: 0761-4046001, 0761-5046464, 094251-51520, 09301273125
Hotel Prestige Princess: 2627550, 2627551, 2627552, 2627553
Note : Phone numbers given above are according to the information available with us. If you find any contact number/s given above is/are incorrect or not in use, please let us know.
.
[AdSense-C]
http://tripsaround.in/wp-content/uploads/2014/06/Bhedaghat.jpg
525
700
TripsAround .in
http://tripsaround.in/wp-content/uploads/2013/04/logo.gif
TripsAround .in
2014-06-27 16:21:40
2014-06-27 16:21:40
Bhedaghat, Madhya Pradesh - You will never have a single dull moment, during your stay at this exquisite location