[AdSense-A]
Sitting in a quiet corner of West Sikkim, Martam is a picturesque Himalayan village offering beautiful views of Mt.Kanchenjungha. The place is known for its pristine village life and beautiful natural surroundings. The popular tourist destinations like Bermiok, Uttarey and Rinchenpong, are quite near to Martam yet it is still far from the maddening tourist rush. This little village is also popular for its rich growth of flora and fauna species and is an abode of some of the most beautiful birds of Sikkim.
Places to see at Bermiok Martam: Martam is a pristine hamlet in West Sikkim. If you are looking forward to experiencing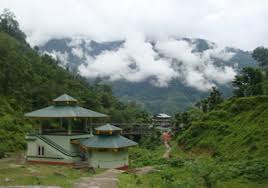 some authentic Sikkimese Village life in the lap of the Himalayas and a grand panoramic view of Kanchenjunga, then Martam village is the place to be. The quaint village was once a popular and revered religious hub of the Limbu people. The village ground still holds the symbol of its rich religious past in the form of the temple 'Yuma Samyo Manghim' that was built by the followers of this religion. The mystic temple has a huge stone place in its entrance, which was once the seat of the great mystic Guru Teyongsi Srijunga. Legend has that it was here that Guru Srijunga used to sit and deliver sermons to his devoted followers.
Nearby attractions of Bermiok Martam: Near to this little village are many interesting and beautiful places. The Srijunga waterfalls and caves located along the banks of Reshi River is an important historical site located near Martam. The caves are also known as Srijunga Phuku. The Srijunga Wadhan waterfall is simply spectacular to watch. Next stop is the Berthang Berfok Mangerjong located at the confluence of the two rivers Kaleez and Rangsang at Berthang, which is absolutely a breathtaking view. Moving further, there is another gorgeous waterfall known as the Pheng Doji Falls that stands solitary at Hee-Gaon in the Hee-Khola area.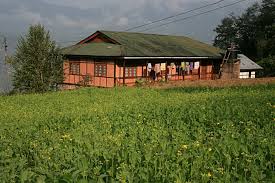 A little further from here you can visit the famed Rabindranath Smritiban, which was once a resting home of the Great Nobel Laureate of Bengal, Rabindranath Tagore. Near the Hee-Khola riverbank, there is a beautiful water garden by the name of Hee Water Garden that possesses the largest Buddhist Water Prayer Wheel in the world, which is also called the Mani Chukar. The water garden is set amidst beautiful scenery that includes a swimming pool, a cafeteria, a Gazebo (resting place) and a small Temple of Lord Shiva.
At upper Martam, located just above the Alley cave temple is a watchtower that offers a magnificent view of the Mt. Kanchenjungha. You would also find the picturesque lake Chaaya Taal that offers boat rides to tourists and visitors, just eight km from Martam. Other interesting sightseeing places located nearby are the Resum Monastery, Changay Falls, Singshore Bridge, Pemyangtse Monastery, Rabdentse Ruins, Yuksom and Pelling.
About 13 miles away, there is a beautiful cave temple of Lord Shiva that is more than a century old. The cave temple is also popularly known as the Kailash Pati Gufa, and is visited by hundreds of tourists and locals every year during the festival of Shivaratri. There is another popular temple cave located nearby known as the Alley Cave, which is also incidentally dedicated to Lord Shiva. Apart from these activities, you can also go for quite nature walks, bird watching and trekking trips to nearby places of interest.
The Red Panda Gate (one of the entrances of the Barsey Rhododendron Sanctuary) is also within 10 km of Martam. This sanctuary is one of the last natural habitats of the illusive Red Panda.
Things to do at Bermiok Martam: Besides enjoying the panoramic views of Kanchenjungha, in Martam you will truly enjoy the actual flavour of a mountain village life. The local home stay at Martam lets you enjoy the unique life of a mountain villager. To get the best enriching experiences of a typical village life, hire a local guide to show you through the various modes of daily activities in the village. You could begin with sightseeing around popular village spots like the agricultural farmlands, flower gardens, village home backyards, animal husbandries, the local market and various herbal plantation spots. Martam is also dotted with very interesting herbal plant species of which cardamom plants are the most dominant in the region. The locals are also very warm and generous in nature. You can have a different experience by participating in village activities like basket weaving, gathering, organic farming and the bustling village fair.
Best time to visit Bermiok Martam: Martam can be visited all year round. But, if you want to catch a glimpse of the scenic Kanchenjungha at its grandest splendour, then visit Martam between the winter months of October and February. For those who love fun and frolic, the months of March, April and May are the best time to enjoy the local tourist festival at the Monastery organized by the Hee Bermiok Tourism Development & Heritage Conservation Society. Moreover, you can also pay a visit to the Barsey Rhododendron Sanctuary famous for its magnificent blossoming Rhododendron flowers during this time.
How to go ?
Martam is situated about 145 km from Siliguri, 135 kms from Bagdogra Airport and New Jalpaiguri Railway Station. All cars going to Dentam Bazar will reach Bermiok, from where pick-up to Martam can be arranged.
[AdSense-B]
Where to stay ?
There are very few accommodation facilities in Bermiock Martam. One option is Hitaishi Homestay. For booking details you may contact:
Hitaishi Homestay:  (+91)-9593889226 / (+91)-7797883912
Website: www.hitaishihomestay.com
Note : Phone numbers given above are according to the information available with us. If you find any contact number/s given above is/are incorrect or not in use, please let us know.
[AdSense-C]
http://tripsaround.in/wp-content/uploads/2014/04/Bermiock-Martam.jpg
278
700
TripsAround .in
http://tripsaround.in/wp-content/uploads/2013/04/logo.gif
TripsAround .in
2014-04-20 09:07:58
2014-05-14 16:59:00
Bermiock Martam, Sikkim - A picturesque Himalayan village known for its pristine village life