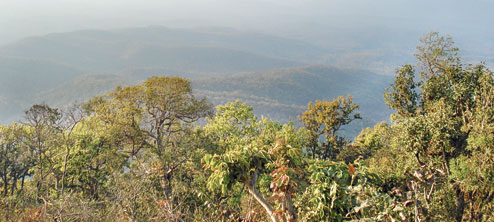 [AdSense-A]
Want to experience the beauty of hills, forests, rivers and waterfalls on a single weekend? Then BarsuanValley on the Jharkhand-Odisha border is  an ideal place
The almost-five-hour train journey from Rourkela to the Barsuan mines, through the hills and the Saranda forest, provides the glimpses of the beauty.
The leaves of teak and other trees will brush against the arms and the breeze will fill the nostrils with the smell of wild flowers as the train chugs past tiny hill stations like Dhumetra, Lathiketa, Champajharan and Chandiposi.
There is only one local train from Rourkela to the BarsuanValley every morning so the trip is to be arranged accordingly.
The hills that surround the valley are rich in minerals, especially iron and manganese.
The area is a part of the Saranda forest range and the trees like sal, akashmoni and sissoo are found in large numbers.
Among the animals, deer and elephants roam in the forest. Human presence is restricted to tribals and they are generally very helpful.
A 30km driving will take the tourists to Khandadhar — India's 12th highest waterfall — at Nandapani in Sundargarh district. It's a must visit. The waterfall originates from Karapani Nala at a height of 801ft and looks like the tail of a horse.
The spume at the base of the waterfall extends a quarter of a mile down the river.
How to go?
There are several trains from Howrah to Rourkela. A morning local from Rourkela goes to Barsuan. The journey takes around five hours. You can also hire a car for the trip to Barsuan.
[AdSense-B]
Where to stay?
Barsuan has few hotels and lodges. Rourkela offers several accommodation options.
[AdSense-C]
http://tripsaround.in/wp-content/uploads/2014/02/Barsuan-Valley.jpg
222
494
TripsAround .in
http://tripsaround.in/wp-content/uploads/2013/04/logo.gif
TripsAround .in
2014-02-19 12:16:26
2014-05-16 11:18:08
Barsuan Valley on the Jharkhand-Odisha border