[AdSense-A]
One of the most significant geographical characteristics of places situated on the border of West Bengal, Jharkhand and Orissa is the abrupt growth of hills. Scattered all over the plains, these hills seem to have shot up virtually from nowhere, giving them a rather unassuming look. Both rocky and green, the hills, however, make the landscape much more picturesque.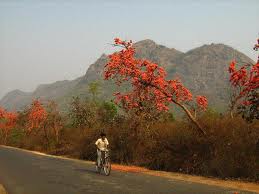 An ideal example of such topography is Baranti, a small village in the district of Purulia, right in the lap of a hilly range with a huge water reservoir and a dam on the other side. The dam takes off from the foot of Gorongi Hill, which is famous in this area for a short trek. Hills and jungles, for that matter, are hardly scarce in Baranti and its adjacent areas. One would be rather surprised to discover how they have remained undisturbed.
People with commercial ventures in mind rue the lack of a communication system in Baranti and other nearby villages, but that has in fact helped save the natural beauty and freshness of these places from an extra load of incoming pollution.
While in Baranti, tourists may want to move around on foot from one village to another, either through the jungles or long winding roads with green paddy fields on both sides. For further adventure, it may be ideal to choose the nearest hill and climb to its top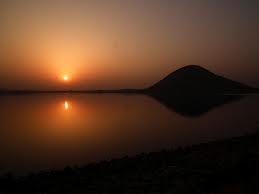 and getting a magnificent view of the plains and the sprawling lake. One may also chance upon deer, wild boars and even wolves, which live in the denser parts of the jungle.
Sunset is particularly special in Baranti. The lake keeps changing colour from time to time. It's a real treat for the eyes to sit and watch the various shades of yellow and red reflected on the water and quietly spreading out on to the paddy fields.
The best time to visit Baranti is between October and March. The huge water body around the dam attracts a lot of migratory birds every winter.
How to go ?
The nearest railway station is Muradi, about 4km from Baranti. Take a train from Howrah and reach Asansol or Adra. Then take a local train to Muradi, which is 20km from either town. The lone resort at Baranti, Akashmoni Resort, makes arrangements for pick-ups by car from Muradi station. There is a caretaker at the resort who arranges the food. Tourists have to pay for the raw materials and the charge for cooking.
[AdSense-B]
Where to stay ?
The resort has has two cottages within a compound, right beside the lake. There is no electricity. Contact: Nikhil Roy in Baranti (9732038397), S.N. Chatterjee in SaltLake (9831429956).
[AdSense-C]
http://tripsaround.in/wp-content/uploads/2014/03/baranti_1.jpg
312
750
TripsAround .in
http://tripsaround.in/wp-content/uploads/2013/04/logo.gif
TripsAround .in
2014-03-10 21:46:37
2014-05-15 15:44:54
Baranti, on the border of West Bengal, Jharkhand and Odisha