[AdSense-A]
The Bara Mangwa Farmhouse rests on a mountain slope surrounded by the orange orchards facing the confluence of Teesta and Rangeet Rivers. The place is heavenly. It is located in the Darjeeling district, towards the western side of the Kalimpong hills, in the Teesta Valley. The Bara Mangwa village is the abode of few terraced farms, local huts and also many orange orchards. The prime attraction of this little village is the farm house that offers good accommodation facilities and clean organic food plucked from its own farms. The farmhouse also has its own poultry and a small goat and pig house. You can also enjoy rafting in Teesta River, learn rock climbing from the experts or opt for angling here. Bara Mangwa is a tiny village where you can experience life in its simplest forms in a little and forgotten corner of the Himalayas.
Places to see at Bara Mangwa: From the farmhouse rooms you can have an outstanding view of the Sikkim and Kalimpong hills as well as a bird's eye view of the TeestaRiver. The farmhouse has its own farms where the seasonal vegetables, fruits and regular crops grow in abundance. A trip to these farms is worth. You can also visit their poultry, dairy as well as the small goat house. You can make a visit to the nearby tea gardens also. Take long stroll along the orange orchards or just look at the blue hills all around from the farmhouse's beautiful verandah.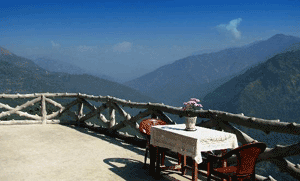 Nearby attractions of Bara Mangwa: There are many places around Bara Mangwa village where guests can visit. Kalimpong is one such place which is located some 21 kilometers from Bara Mangwa. Lava, which is 46 kilometers from Bara Mangwa is also another visiting spot. It is famous for being the entry point to the Neora Valley National Park. Darjeeling, the Queen of the Himalayas is also located close to Bara Mangwa, some 40 kilometers away. The other places of attraction includes Chota Mangwa (1 km), Tinchuley Sunrise Point (9 kms), Peshok and Lopchu Tea Garden (15 kms), Tista and Rangit View Point (12 kms), Teesta and Rangit Confluence (8 kms), Mongpoo (20 kms.), Delo Hill Top (33 kms.), Loleygaon (68 kms.), Pedong (35 kms) and Gangtok located some 70 kilometers away.
Things to do at Bara Mangwa:  Bara Mangwa provides with lot of opportunity. Trekking and rock climbing are abundant. River rafting in the waters of Teesta is also another activity. You can also enjoy fishing in the waters of Teesta. There is a Yoga and Martial Art Center that teaches some martial art techniques as well. The village of Bara Mangwa promotes local sports which are quite exciting activities to take part in.
Best time to visit Bara Mangwa: The best time to visit is during the winter season when the orange garden is full of oranges. But you must take permission of the owner before plucking them. In fact, winter is the best time to see the best of this beautiful, small village surrounded by hills.
How to go?
You first have to get down at New Jalpaiguri (NJP) Railway station and then take NH-31  straight to Teesta Bazaar. From here you need to take left after crossing the Teesta Bridge to reach Bara Mangwa village. From New Jalpaiguri (NJP) railway station, you need to hire a car to cover your distance. The nearest airport is Bagdorgra Airport.
[AdSense-B]
Where to stay?
The Bara Mangwa Farmhouse itself offers basic but clean lodging facilities. The farmhouse has two rooms, well equipped with modern attached bathroom offering excellent views of the Sikkim and Kalimpong hills as well as views of River Teesta. Facilities like regular cleaning and running water are also available. The farmhouse also has its own poultry and a small goat and pig house. The food served is organic in nature which is prepared from the vegetables grown in their own farms. Dining is offered four times a day and includes Bed Tea, Breakfast, Lunch, Tiffin and Dinner. For booking you may contact 9830947352, 8420424111, 9830788403, 9836955186.
There are many home stay lodges in Bara Mangwa. Some options are:
Dhanbagey Home : 9434862561,9775423925
Heritage Farm: 9832381150
Anudith Lodge Rangaroon T.E. : 9800835301,9679425941
Yonzon's EC0-Tourism Homestay: 9002680011,9800457279.
There are also many other home stays. For details you may visit www.westbengaltourism.gov.in
Note : Phone numbers given above are according to the information available with us. If you find any contact number/s given above is/are incorrect or not in use, please let us know.
[AdSense-C]
http://tripsaround.in/wp-content/uploads/2014/03/bara-mangwa-farmhouse.jpg
359
700
TripsAround .in
http://tripsaround.in/wp-content/uploads/2013/04/logo.gif
TripsAround .in
2014-03-17 08:18:37
2014-05-15 14:39:18
Bara Mangwa, in North Bengal - A tiny village at a heavenly place