[AdSense-A]
Bansberia is ideal for spending a Sunday away from home but not too far away. The main attraction in this village is temples with intricate terracotta works that inspired Rabindranath Tagore. Moved by the art, the poet had asked Nandalal Bose to document the panels on the temple walls.
Bansberia, 48km from Howrah, is an hour's journey along the Howrah-Katwa rail line. You have to take a morning train for a comfortable journey.
A short bumpy rickshaw ride from the station will take us to the temple complex, which houses two unique pieces of Bengal architecture.
The Hangseshwari temple, which betrays tantric influences, is the better one known of the Bansberia structures, but the adjoining Ananta Basudeb temple, small and elegant and crowned by an octagonal turret, is no less interesting.
The history of Bansberia dates back to the days of Shah Jahan. In 1656, the Mughal emperor appointed Raghab Dattaroy of Patuli as the zamindar of an area that includes the present-day Bansberia. Legend has it that Raghab's son Rameshwar cleared a bamboo grove to build a fort, inspiring the name Bansberia.
The Ananta Basudeb temple was constructed by Rameshwar Datta in 1679. Three sides of the one-storied temple are decorated with richly carved terracotta panels. The turret also contains terracotta carvings.
The panels depict gods and goddess, love and war scenes and glimpses of everyday life.
The 21-metre high, five-storied Hangseshwari temple has 13 domes shaped like lotus buds. The structure has similarities with St Basil's Cathedral in Moscow, which is also known as the onion dome church.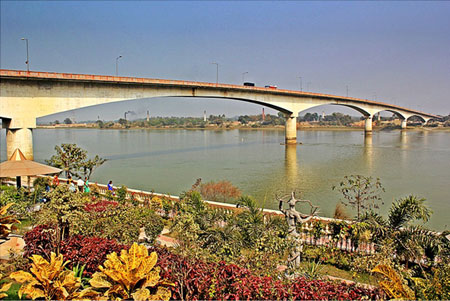 The temple was constructed in 1814 by the wife of Nrisinghadeb, the grandson of Rameshwar. Nrisinghadeb was a follower of a Tantric cult and had spent his last seven years (1792-99) in Varanasi practicing its rites.
The temple was constructed after his death by his wife Sankari, as a tribute to him. With its unique shape, it stands out among Bengal temples. An arched gateway leads to its sanctum sanctorum, where an idol of Hangseshwari is placed on a lotus.
The inner chamber is connected to the domes through narrow passageways, said to represent the nerves in a human body. Entry to the passageways is restricted for tourists.
Next to the temple are the remains of the Dattaroy palace. Fragments of arches and broken walls are all that can be seen today.
After a tour of the temple compound, we can take a stroll along the Hooghly to admire the Ishwar Gupta bridge.
[AdSense-B]
Trip tips
Howrah-Katwa local that leaves Howrah at 7.53am.  Sealdah-Katwa local that leaves at 7.57am is another option. Cycle-rickshaws are the only available transport in Bansberia. You can also stop at Bandel, which offers various attractions. Bandel is well-connected with Bansberia. Eateries near the temple complex serve lunch at a reasonable price. There are evening trains for returning to the city.
[AdSense-C]
http://tripsaround.in/wp-content/uploads/2014/02/bansberia-hanseshwari-temple.jpg
685
1024
TripsAround .in
http://tripsaround.in/wp-content/uploads/2013/04/logo.gif
TripsAround .in
2014-03-02 12:52:12
2014-05-15 16:15:09
Bansberia - Temples with intricate terracotta works