[AdSense-A]
Bankiput, an unexplored beach, encircled by the dense forest of Casurina trees is located very near to Kolkata. You will find no mortal soul on the beach except the millions of red crabs popping their heads from their burrows. Enjoy the sea – the sand – and the silence at Bankiput. The speeding cars on the beach and no reckless crowds would spoil your day at Bankiput. However the "horizon-kissing" beach is not the only attraction in Bankiput – a fully operational Lighthouse in nearby Dariapur and an age-old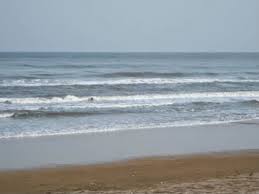 temple of Kapalkundala (as mentioned in Bankim Chandra's novel) too also attracts many tourists. Your dream of spending a day in a completely secluded beach with the chirps of birds and crashing waves will come true this weekend in the Bankiput beach.
Places to see at Bankiput: The lonely beach and casuarina groves stretch for miles here. Other attractions at Bankiput include the Dariapur Lighthouse, Deshapran Fishing Harbour at Petuaghat and the Temple of Kapalkundala (as referred in Bankim Chandra Chattopadhyay's novel) all within 7 km of Bankiput.
The Deshapran Fishing Harbour at Petuaghat is located where Rasulpur River meets the Bay of Bengal. It is one of the most picturesque fishing harbours in coastal Bay of Bengal. The 96 feet high Dariapur Lighthouse is another attraction here. It is a beautifully restored fully functional lighthouse and tourists are allowed to the top of the lighthouse too. You can catch an excellent panoramic view of the entire region and the sea from the top of this lighthouse. There is also a temple, which is said to have been referred by Bankim Chandra Chattopadhyay in his famous novel Kapalkundala.
Nearby attractions of Bankiput: Bankiput is located quite near to Junput and Contai (Kanthi) so you can reach most of the popular sea beach destinations of coastal Bengal from here within an hour. Starting from the popular beach destinations like Digha, Mandarmani and Shankarpur to lesser known sea beaches of Talsari, Udaypur and Tajpur – all can be reached within an hour or so from Bankiput. The new found eco-village of Monchasa is also nearby and can be reached via Kalinagar.
Things to do at Bankiput: The sunrise and sunset from Bankiput is something to cherish and so are the long walks along the deserted beach. In the moonlight nights, the beach and the sea turns into pure silver and you can witness the changing colour of the sea during the day. A visit to the Dariapur Lighthouse would be a rewarding experience. You can catch a great view of the whole area from this 96 feet high lighthouse. The Dariapur Lighthouse opens to visitors from 3:00 pm everyday.
Best time to visit Bankiput: You can visit Bakiput any time of the year. In the monsoons, you can see the dark clouds rolling into the horizon and in the winters you can take long walks along the beach.
How to go ?
If you are travelling by car then drive to Contai (Kanthi) and then take the road to Junput. After reaching Junput stand, you have to take the road connecting Baghaput. Just halfway towards Baghaput, you would find a bifurcation towards Bankiput. If you are taking public transport, then you can take shared trekkers to Junput from Contai (Kanthi) and then shared trekkers heading towards Baghaput and get down at Bankiput. You can also reach Contai (Kanthi) by train.
[AdSense-B]
Where to stay ?
There is only one two-storey guest house with six Double Bed rooms at Bankiput. This spacious guest house is just a minute away from the Bankiput Beach. There's a small pond, a lawn and facilities like attached Western Bathrooms, Electricity and Television in the guesthouse. The guesthouse can also arrange transport for local sightseeing to Dariapur Lighthouse and Petuaghat. Sumptuous Bengali cuisine is served in the guest house for the guests. For booking details you may contact:
Jhinuk Residency: +91-09932677258
Note : Phone numbers given above are according to the information available with us. If you find any contact number/s given above is/are incorrect or not in use, please let us know.
.
[AdSense-C]
http://tripsaround.in/wp-content/uploads/2014/05/Bankiput.jpg
420
700
TripsAround .in
http://tripsaround.in/wp-content/uploads/2013/04/logo.gif
TripsAround .in
2014-06-16 14:15:48
2014-06-16 14:17:08
Bankiput, South Bengal - An unexplored beach, encircled by the dense forest of Casurina trees