[AdSense-A]
Ballavpur Wildlife Sanctuary lies on the border of the University town of Bolpur covering an area of 200 hectres is just the perfect getaway for your next weekend. The Viswa Bharati University area, is just a km from here. The Wildlife Sanctuary includes three large water bodies (Jheel) hosting a migratory as well as resident birds in plenty. This sanctuary came into existence on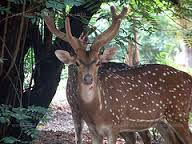 September 1967. The place records the most successful deer conservation in the state. It provides shelter to numerous Cheethals (Spotted Deer), Blackbucks and other resident animals like jackals and foxes. The whole sanctuary is covered with watch towers and jungle paths for tourists to walk around and catch glimpses of deer and other wildlife. A nice and cozy private hotel just 5 minutes walk from the sanctuary is ideal for nightstay of the tourists. The sightseeing attractions of Bolpur can be visited in day trips staying at Ballavpur.
Places to see at Ballavpur Wildlife Sanctuary: The main attractions of this sanctuary are the blackbuck deer and spotted deer. There is also a huge tract of wetland created by the three water bodies (Jheel) which hosts thousands of migratory birds in winter like Lesser Whistlings, Pintails, Teals etc. The sanctuary is also home to a healthy population of resident birds like Black Hooded Orioles, White Bellied Treepies, Commorants, Hoppoes, Egrets and others.
The Ballavpur Wildlife Sanctuary may lack in size but it is very impressive for its remarkable dense local vegetation comprising Sal, Akashmoni, Sisoo, Cashewnut, Amlaki, Bahera, Haritaki and other trees. The whole sanctuary can be covered by foot and tourists can catch glimpses of wildlife from the watchtowers located at strategic sites.
Nearby attractions of Ballavpur Wildlife Sanctuary: The most significant sightseeing options near Ballavpur Wildlife Sanctuary is the Viswa Bharati University and its different departments, the most notable being the Kala Bhavan. You can spot some frescoes and sculptures of Nandalal Bose, Ramkinkar Baij around Kala Bhavan. Tagore's Ashram features a number of buildings namely the Santiniketan building, Dehali, Nutan bari, Kaalo Bari and others. School classes and some major activities are held in the Amro Kunja (Mango Grove). You can also spot a hillock featuring an age-old banyan tree on the eastern side of the ashram. The Uttarayan complex has several buildings like Konark, Udayan, Shyamali, Chatimtala and others. The Rabindra Bhaban Museum popularly called Bichitra houses letters, manuscripts, medals, documents, paintings and certificates associated with Tagore.
The Khowai region and Kopai River (Rabindranath's Amader Choto Nadi) are other destinations where you can spend some time. Apart from this, you can also visit Hindi Bhavan, Cheena Bhavan, Nipon Bhavan, Sangeet Bhavan, Patha Bhavan, Vinaya Bhavan, Sihsha Bhavan, Kaalo Bari etc. Kankalitala, just 9 km from Santiniketan is a temple popular as a Satipeeth. Surul, located near Sriniketan, features temples decorated with terracotta carvings. You can also visit another Satipeeth at Labhpur-Fullara, just 30 kms. from Ballavpur Wildlife Sanctuary. Another nice nearby destination is the Tilpara Barrage over River Mayurakshi (around 30 kms away). Sunset from the barrage over River Mayurakshi is an enchanting experience that you will cherish for long. Tourists also visit Nanoor, famous as the birthplace of the Sanskrit poet of the 14th century – Chandidas. Kendubillo is another destination, popular as the hometown of another renowned Sanskrit poet, Jaidev. You can also make trip to Bakreshwar, the famous Satipitha, housing the Bakranath temple and hot springs. Tarapith, the famous Saktipeetha, is also visited from Santiniketan.
Things to do at Ballavpur Wildlife Sanctuary: Birdwatching and wildlife watching is the major activity at Ballavpur Wildlife Sanctuary. You can take long walks in the well laid out jungle paths and watch the blackbucks and spotted deer in their natural habitat. You can spend some time in the early hours of the day in the watch towers near the tanks (Jheels) and enjoy birdwatching. The Sanctuary is a great place to take a nature walk. There are few tribal villages in the eastern fringes of the sanctuary where you can explore village life. Sightseeing in other popular destinations around Bolpur like Shantiniketan, Kopai, Khowai, Sonajhuri and Kankalitala can also be enjoyed.
Best time to visit Ballavpur Wildlife Sanctuary: The whole sanctuary is drenched in greenery during the rainy season when the new leaves come out from every branch. The deer seem to enjoy the rains most and spend their days soaking. The winter sees thousands of migratory birds nesting in the water bodies and marshlands of the Ballavpur Wildlife Sanctuary.
How to go ?
The main town adjacent to Ballavpur WLS is Bolpur, which is accessible by a number of conveyances including trains, bus and cars. The nearest railway station is Bolpur and Prantik, which can be reached from Kolkata in two to three hours. You can avail the trains like Shantiniketan Express and Viswa Bharati Fast Passenger. If you prefer the bus route, then you need to avail the Kolkata-Asansol bus or Kolkata- Durgapur bus, which will take you to Panagarh respectively. From these respective stops, you need to catch another bus to Bolpur. Ballavpur Wildlife Sanctuary is located 212 kms (via Panagarh and Darjeeling More) and 169 kms (via Guskara) from Kolkata by roadway, which takes around 3-4 hours to reach. So, you can also drive along the Durgapur Expressway heading towards Bolpur by crossing Bardhaman, Panagarh and the Ajay River crossing. After reaching Bolpur, take the road towards the Vishwa Bharati University Campus then cross the campus and take the road which turns left to Lalbandh area to reach Ballavpur Wildlife Sanctuary.
[AdSense-B]
Where to stay ?
A luxurious cozy private resort is located just 5 minutes away from the entry gate of Ballavpur Wildlife Sanctuary. A nice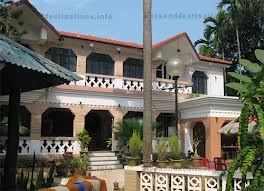 landscaped garden with gazebos, a multi-cuisine garden restaurant, 24 hrs electricity, Western bathrooms, car parking facilities and all Air Conditioned rooms make this resort perfect for a comfortable stay close to nature and far from the crowded lanes and localities of Santiniketan. The rooms are decked in ethnic furniture, Televisions, hot water geysers and Intercom facilities. The resort also arranges cars for sightseeing. You would find Double Bed Deluxe rooms, Dormitories, Family rooms, Honeymoon Duplex suites and Standard suites in this resort. Food is served in the Indoor Dining Hall as well as the Garden restaurant. You can choose from a range of Indian, Chinese and Continental dishes. For booking details you may contact:
Park Guest House: +91-09434012420 Website: www.parkguesthouse.in
Note : Phone numbers given above are according to the information available with us. If you find any contact number/s given above is/are incorrect or not in use, please let us know.
[AdSense-C]
http://tripsaround.in/wp-content/uploads/2014/05/Ballavpur.jpg
470
700
TripsAround .in
http://tripsaround.in/wp-content/uploads/2013/04/logo.gif
TripsAround .in
2014-06-23 10:00:33
2014-06-23 10:00:33
Ballavpur, South Bengal - Lies on the border of the Bolpur covering an area of 200 hectres is just the perfect getaway for your next weekend