[AdSense-A]
The Ayodhya Hill is a part of the Dalma Mountain range. The beautiful hill attracts a lot of tourists every year. It nestles on the boundary of Purulia district and Jharkhand. You can reach the place by car from Purulia and Birbhum stations. The place is full of excellent sight scenes. The beautiful waterfalls, deep forests, tribal villages, Gorshabru and Mayur hill will cast a magic spell over your senses. This place is a home to various wild animals that makes it more adventurous.


Places to see near Ayodhya Hills: The magnificent Gorshabru, the highest peak of the Ayodhya Hills is situated at an altitude of 2850 feet. There are various deep forests and numerous waterfalls located amidst the hill. There are also several tribal villages situated on the hill.
Nearby attractions: A trip to the Mayur hill will provide a spectacular view of the Ayodhya Hills, just like it has been portrayed on a canvas.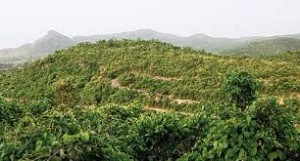 Things to do at Ayodhya Hills: You can visit the numerous waterfalls, deep forests, tribal villages either or you can also explore the beauty of the hill by taking a walk around it. You can catch a glimpse of the wild animals residing in the forests of the hill such as elephants, wolves, wild pigs, deer, peacocks, cheetahs and numerous kinds of birds. While on a trip to forests, it is advisable to opt for a forest guide.
Best time to visit Ayodhya Hills: The months between September and March are considered to be the best time to visit Ayodhya Hills. During this period, the place provides ideal setting for camps.
How to go ?
The best way to reach Ayodhya Hills is by train. From Kolkata, a train called Rupashi Bangla is available in the morning that reaches Purulia in 6 hours. From there, you can hire a car to reach Ayodhya Hills, via Sirkabad. The distance is 40 kilometers. Alternatively, you can get off at Birbhum Station and reach the hill via Chhatatar and Baghmundi Bazar. This route is advisable for those tourists who want to do shopping or avail the local transport.
[AdSense-B]
Where to stay ?
A number of budget hotels, standard hotels and rest houses are available in this place. Some hotels also provide forest guides and organize trekking tours. Dining facilities are provided by majority of the hotels, located in Ayodhya Hills. The WBTDC accommodations are also available in Ayodha Hills. For booking details you may contact:
Tourism Centre (Kolkata)
Address: 3/2, B.B.D. Bag (East), Kolkata – 700 001
Phone: +91-(033) 22436440 /22488271
Website: www.wbtourism.gov.in
You may also stay at WB CADC cottages. Ph: +91-03252-225726
Note : Phone numbers given above are according to the information available with us. If you find any contact number/s given above is/are incorrect or not in use, please let us know.
.
[AdSense-C]
http://tripsaround.in/wp-content/uploads/2014/04/AyodhyaHills.jpg
464
700
TripsAround .in
http://tripsaround.in/wp-content/uploads/2013/04/logo.gif
TripsAround .in
2014-04-10 13:34:41
2014-06-18 08:05:55
Ayodha Hills, South Bengal - A part of the Dalma Mountain range this beautiful hill attracts a lot of tourists