[AdSense-A]
Surrounded by forest and located in the higher altitude Anden in Sikkim is a heavenly place from where you can savour the beauty of some snow-covered mountain peaks. The famous Barsey Rhododendron Trek is what you can enjoy here. The place is loaded with numerous nearby attractions like Jureli View Point, Gathang Waterfalls, Dodak Helipad, Devi Falls, Daramdin Sai Mandir, a Manghim and the market at Sombaria. From here you can also visit the other nearby attractions like Rinchenpong and Biksthang is West Sikkim and Namchi in South Sikkim. Anden is facilitated with only one accommodation which is a beautiful Forest Rest House having all modern facilities.
Places to see at Anden: Anden is situated at the base for the famous Hilley – Varsey Rhododendron trek. Hilley, the check post, a 4 km long trek to Varsey is just 18 km from Anden. While travelling to Hilley from Anden, you can catch the view of the Mt.Kanchenjungha range.
Jureli Dara view point, offers great views of the snow-capped mountain ranges, Darjeeling, Sombaria and endless stretches of mountains is just a walk from Anden. You can enjoy nature walks and birdwatching in the forests around Anden.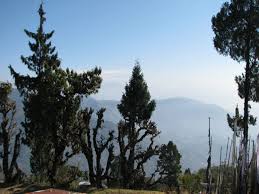 Nearby attractions of Anden: Make a trip to Hilley, located 18 kms from Anden that marks the beginning of the Hilley – Varsey Rhododendron trek. There is a beautiful Sai Temple in Daramdin just 20 km away. Other nearby attractions of Anden are Anden Olong Monastery (12 kms away), Kitan Falls, Dodak Helipad, Butterfly Shape Valley and numerous other view points. You can visit most of these destinations while travelling from Somabaria to Anden – they would fall on the way. Other attractions that you cover in a sightseeing trip of Anden are Devi Falls, Gathang Falls, the EPC church (one of the oldest churches of Sikkim), Ribdi Village and a Lepcha Museum.
Things to do at Anden: Trekking is a favourite activity of the tourists visiting Anden. Most tourists travel to Hilley by car from Anden (18 kms) and start the 4 kms long Hilley – Varsey Rhododendron Sanctuary trek. The sanctuary offers excellent views of Mt.Kanchenjungha and endless stretches of Rhododendrons in their array of red, pink and white colours. Birdwatching is another great activity to be enjoyed from Anden. In the mornings you can enjoy your hot cup of tea in the Forest Rest house's terrace enjoying the snowcapped mountains and in the evenings you can also enjoy a camp fire roasting your chicken.
Best time to visit Anden: You can visit Anden throughout the year. You can enjoy magnificent views of Mt. Kanchenjungha in October to January. To see Rhododendrons in full bloom, you should visit Anden from mid of March to mid of April every year. Birdwatching can be enjoyed throughout the year.
How to go ?
Siliguri station is connected with all important rail routes across India. Anden is 122 km from Siliguri which can be reached by car.
[AdSense-B]
Where to stay ?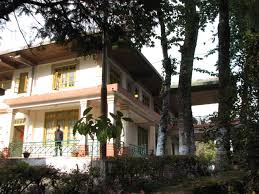 The only accommodation in Anden is the Forest Rest house, which is located far from any other human settlement in the fringes of a forest. The Forest Rest house  comes with all modern facilities like attached western bathrooms, room heaters, geysers and even TVs. The rest house also arranges trek guides for the guests and cars for sightseeing trips. The rooms are spacious and luxuriously decked with wooden furniture and carpets. There is also car parking facilities and a badminton court here. For booking details you may contact:
Akash Ganga Forest Rest House: (+91)9593388677
Note : Phone numbers given above are according to the information available with us. If you find any contact number/s given above is/are incorrect or not in use, please let us know.
[AdSense-C]
http://tripsaround.in/wp-content/uploads/2014/04/Anden.jpg
526
700
TripsAround .in
http://tripsaround.in/wp-content/uploads/2013/04/logo.gif
TripsAround .in
2014-04-28 14:31:42
2014-05-14 15:46:02
Anden, Sikkim - A heavenly place from where you can savour the beauty of snow covered mountain peaks