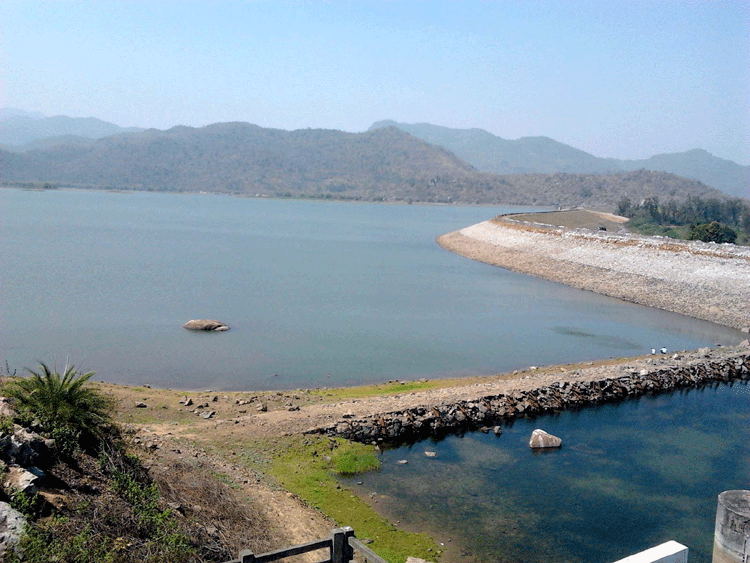 [AdSense-A]
Nestled among the hills and forests of the Ramgarh range, Godhahada gets its name from the river on which the irrigation department has built a dam. Gushing out of the hills at a height of 3,000 metres, the river suddenly becomes wide before flowing downhill. It is at this spot that the dam was built.
The waves lapping on the banks, the quiet murmur of the current and the occasional gurgling streams through the dam gates accentuate the serene and tranquil atmosphere.
The happy togetherness of flora and fauna, hills and the woods makes Godhahada a nature lover's favourite. The comfortable accommodation in the bungalow on top of the hill puts the final touches to this idyllic retreat.
The primary activity here is to chill out in the lap of nature. If in a mood of adventure, jungle safari is ideal. Birdwatchers can spend the day along the riverside or walk into the woods.
The old Shiva temple, locally popular as the Ujjaleswar temple is a place to visit. Villagers from Jayanarda, Gobarbaraha, Seripur, Gurubadha and Khamari Gaon in Orissa's Ganjam district come here to worship.
Gopalpur-on-sea, Rambha and the Taratarini temple are some of the popular tourist spots nearby.
Godhahada's charming atmosphere will force anyone to come back.
How to go?
By train: A train from Howrah to Berhampur in Orissa.
By road:  NH 55 to Berhampur and proceed from there.
[AdSense-B]
Where to Stay?
There are many hotels in Berhampur and Gopalpur.  The irrigation bungalow can also be booked by writing to the sub-divisional engineer, Godhahada, Digapahandi.
[AdSense-C]
http://tripsaround.in/wp-content/uploads/2014/02/Godhahada-Dam-Orrisa.gif
563
750
TripsAround .in
http://tripsaround.in/wp-content/uploads/2013/04/logo.gif
TripsAround .in
2014-02-20 15:30:40
2014-05-16 11:16:26
A weekend at Godhahada, Orissa